Once manufactured, our products are safely stored in drums, bags, intermediate bulk containers (Big bags), ready to be packed following customer request.
All the materials we use for packaging are certified food grade and traced by production batch number.
According to customer's requests, labels can be neutral or customized and we can adopt numbered seals to guarantee protection from any food fraud.
We offer many different packaging formats:
1-2 kg bottles / bags

5-10 kg strong kraft carton with sealed food grade polyethylene liner inside

20-25 kg strong kraft carton with sealed food grade polyethylene liner inside

25 kg paper bags

25 kg polypropylene bags

50 kg drums with sealed food grade polyethylene liner inside

500-800 kg food grade Big bag

Other formats on request
Goods are well arranged over heat treated pallets and then firmly closed with plastic film. Every pallet can carry up to 800-1000 kg depending on the weight of the cartons. For big orders pallet can be loaded on fully booked containers. Each container 20" foots can load up to 10.000 kg net, 40" foots can load up to 24.000 kg net.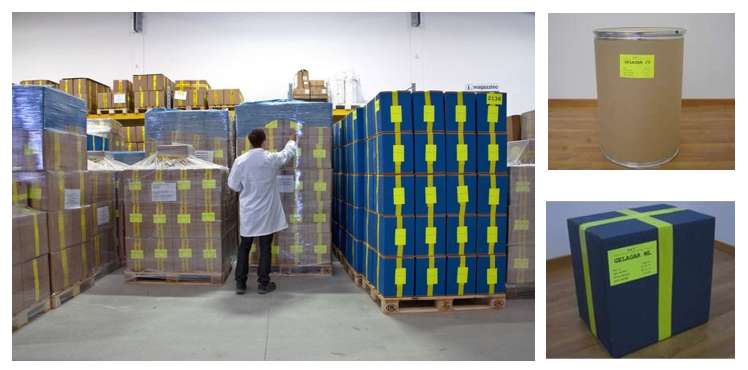 We are very flexible and serve from the family business to the big multinational companies, from 1kg order to hundreds of tons, always doing our best to meet all our partners and customers requirements.
Kept in original unopened package, and stored in a clean area under cool and dry conditions at a well ventilated place, away from heat and direct sunlight, the product has a best before expiry date of 36 months.
Furthermore it will show no significant variation in the physical-chemical properties within the next 5 years from manufacturing date.
Hydrocolloids and stabilizers are considered as non hazardous. No specific handling conditions are required and MSDS (Material Safety Data Sheet) are available on request.